GreenTech Heat announces portable 52K BTU Generator System
by Tom Costello, Technical Director
November 22, 2020
The most powerful electric bed bug heater is no good without enough power to run it. GreenTech Heat lets you conduct successful heat treatments with this portable generator and heater package.
The ePro 1400 bed bug eradication heater produces 52,377 BTUs and weighs less than 50 pounds and treats up to 1,400 sq ft in 8 hours. Our range-topping electric bed bug heater requires two 240V/32A circuits, and unfortunately many job sites cannot provide this power. We now offer the solution to this problem.
Power where you need it.
In order to allow you to treat almost any jobsite quickly with the ePro 1400, we created this package with a portable, push-button start generator, heater, AM4000 fan, laser temperature sensor, and required cords. With twice the power and half the weight of the competition's 240V heater, this package includes everything you need for conducting turn-key high-power electrical bed bug treatments regardless of on-site power availability! The ePro 1400 electric heater will increase ambient temperatures to lethal levels within two hours. This heater heats like propane but has the lightweight portability of electric.
ePro 1400 52K BTU electric heater
17,500 Watt portable generator with push-button start
Generator, ePro 1400 heater, and AM4000 fan easily fit in a small truck
Generator is easily moved around the job site
50' cords for ePro 1400
Collapsible cart to transport the heater, fan, and cords around the job site
Generator can run on a balcony for multi-story building treatments
Lightweight heaters and fans
Cart fits in many small elevators
Faster setup and takedown times
Faster treatment times
Why trust ePro 1400?
The GreenTech Heat ePro 1400 provides many advantages over the competition: With twice the power and half the weight of the competition's 240V heater
Twice the power with directional airflow gets the treatment done faster and more efficiently
Lighter weight decreases worker fatigue
Greater maneuverability decreases setup and takedown times
3500CFM of directional airflow quickly creates bedbug-killing convection
Generator is built into a sturdy wheeled frame for easy portability
Push-button start eliminates back-breaking pull cord ignition
Collapsable transport cart gets the heater, fan, and cords around the job site
Depending upon the sizes of the individual rooms in the treatment area, two or more fans per room must be used in conjunction with the ePro 1400 to distribute and convect the air for a successful treatment. Floorplan, furniture, and compartmentalization may affect heating times.
We've designed this turnkey system to provide years of trouble-free service. All ePro 1400 bed bug heaters come with the peace of mind 2-year repair or replace warranty. Generator covered by manufacturer's 2-year warranty.
What about GreenTech Heat equipment?
Our equipment has been designed and manufactured specifically for insect eradication and kills all stages of insect development including their eggs with 1 treatment. Our equipment meets our long-standing standard of excellence and has been field tested and developed with safety and the operator in mind. Other companies have taken heaters designed for other purposes and adapted them for bed bug and general insecticidal use. GreenTech Heat also has exclusive equipment, like magnetic fire sprinkler covers and the powerful yet easy-to-transport Titan 450, that no other company has in order to assist you in the heat treatment process. All our heaters and fans come with a two-year warranty standard.
Heat works in all industries: pest control, historical building preservation, food storage, automotive and aircraft decontamination, government buildings, senior housing, multi-unit housing, and restaurants, just to name a few!
Technical questions or ready to get started? Pre-order today. Call us at 855-484-2847.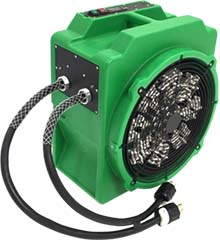 ---
The ePro 1400 is the best electric heater we have ever used. This heater reduced treatment time significantly and distributed the heat energy in a very efficient way.
Isotech Pest Control
---
GreenTech Heat technology is also 100% effective for bed bugs, cockroaches, termites, and all other insects. GreenTech Heat equipment allows you to self-treat with heat on your schedule and as your needs demand. Our certified training lets you do it right and do it safely the first time. Heat safely kills insects and bacteria, viruses, and mold everywhere they may be found in a single one-day treatment. Call us at 888-699-3944. We have bed bug heaters for sale to get started with heat today.
---
What People Say
We use Dr Linford's products on our property. The equipment is of very high quality and very dependable. Also the technology is very effective. I would recommend this product to anyone.
Glen Hayes
East Georgia Housing Authority
---