Kill bed bugs, other insects and their eggs in just one treatment
The bed bug heater begins killing in less than 15 minutes
The Titan 800 is the original bed bug machine and an excellent bed bug heater. GreenTech Heat has designed all models of our portable bed bug heater to kill insect pests, and not appropriated equipment from other markets and uses. A recent independent analysis reports that the GreenTech Heat Titan 800 bed bug propane heater is the most powerful portable, propane bedbug heater available.
Each of our bed bug heat treatment equipment packages includes everything a crew needs to successfully treat a typical treatment area in a day. All of our direct fired packages include our flash video training at no additional cost.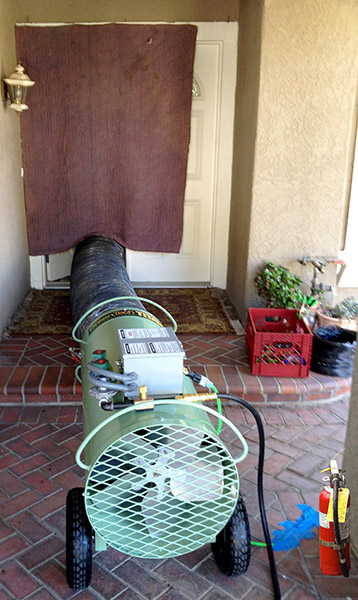 Titan portable direct-fired propane bed bug heaters are the most powerful heaters for GreenTech Heat treatments and will typically treat a given area in half the time of electric equipment. GreenTech Heat offers packages built around two propane heat systems: the Titan 450 and Titan 800. Both heaters are made in the USA.
propane bed bug heaters are typically operated outside the treatment area and the energy from the propane heating unit is ducted into the room from outside the building. Because of the amount of energy and heat produced by propane bed bug heaters, a technician must always be present to monitor the bed bug heater and the treatment area. Propane systems require a propane tank and hoses. Propane tank not included.
Professional propane bed bug heat treatment equipment achieves lethal thermal temperature faster than electric bed bug heaters and will take less time to perform a treatment. bed bug heat treatments with propane bed bug heaters often reduce the ability for bed bugs and other insects to migrate out of the heating zone during the treatment. Direct-fired gas heaters are effective for treatment of all insects and are efficacious for all life cycle stages. The Titan heaters also raise interior and exterior wall temperatures to lethal levels for wood destroying pests like termites.
Propane packages are appropriate for treating the following situations:
single-family homes
multi-unit housing
commercial/restaurants/movie theaters
airplanes and busses
camp cabins
cruise ships
pest control
All GreenTech Heat propane bed bug heaters come with a 2-year repair or replace warranty. Propane bed bug heater packages do not include the propane tank. Each of our propane bed bug heater packages comes standard with the Bed Bug Heat Treatment Field Guide and our exclusive Master Heat Technician Certification, and include fans, all propane hoses, and regulators.
Click here for a listing of our propane heat treatment packages with the propane bed bug heater.
Price of Equipment vs Cost of Treatment
GreenTech Heat
Pesticides
Treatment duration
1 Day
Weeks to Months
Kill all bedbugs in a single treatment?
Yes
No
Repeat visits?
Not needed
Required
Toxic chemcials
No
Yes
100% safe to humans and pets?
Yes
No
Antibacterial
Yes
No
Reduces allergens?
Yes
No
Denatures dust mites?
Yes
No
Kills insect eggs?
Yes
No
GreenTech Heat Solution's state-of-the-art technology allows you to achieve a proven thermal kill for bed bugs. Our laboratory-tested and EPA-approved technology creates heat convection currents which transfer energy throughout the room. Heated air molecules transfer their energy into every surface of the room, allowing all the contents of the room to reach a minimum of 140°F. Developed and perfected by Michael R. Linford PhD, our equipment is designed to be a complete bed bug heat treatment system without sacrificing safety, quality, or capability. We understand that equipment alone will not achieve a 100% kill of your infestation.
That's why we include our Flash video training with every package and many of our packages include our Master Heat Technician Certification training program.
Every electric bed bug heater package includes shipping to the Contiguous US.
Most people consider only the monetary component of a treatment's cost. Inconvenience, collateral toxicity, and length of treatment should all be considered when calculating a total cost. While a pesticidal treatment may initially appear less expensive, the bed bugs will remain with you for several weeks to a month or more. The table above will help you identify some of the hidden considerations and costs of pesticidal treatments as compared with treating with GreenTech Heat equipment. Don't forget that bed bugs can survive more than 500 days between meals!
For more information on how to protect your family, your residents, your property, or your good reputation, call us at 855-GTH-BUGS (855-484-2847) ext 2 or visit our online store to order today.
Failure to achieve a 100% kill is a guaranteed reinfestation. A single bed bug can become a large infestation if left untreated. One pregnant bed bug can turn into 20 bed bugs after 6 weeks. Those 20 bed bugs will become 100 bed bugs in 12 weeks; the 100 bed bugs will become 425 bed bugs in 16 weeks, and finally, those 425 bed bugs will become an infestation of over 13,000 in just 6 months! Not only do bed bugs multiply rapidly, but they can also live for 8 months or more without food.