The quick and easy way to sanitize your church for Covid-19
by Tommy Underhill
July 20, 2020
In the age of Covid, churches face additional requirements and operational restrictions. Covid-19 has brought us masks, social distancing, and the need for repeated sanitization of a building's interior surfaces and HVAC systems. Heat does all this and also cleans the air inside a building. Unlike chemical sanitizers that only affect the surface, heat can quickly eliminate all living organisms throughout the entire treatment area. In a church building, there are many touch points and hidden surfaces that could harbor viruses and microbes. In addition, bed bugs can survive in tight crevices throughout a building. Cockroaches harbor under appliances, behind furniture, in dark cabinets, and in drains and wall voids. Drywood termites infest and destroy wooden structural members. Buildings that have been shuttered and unoccupied for several months can smell musty and have additional allergen or bacterial build-up.
A single treatment gets it all
Every living organism has a thermal death point. Heat destroys all microbes— viruses, bacteria, allergens, molds. Heat minimizes or eliminates odors from food, rodent and bird infestations, urine, mildew, and bacteria in the building in the same treatment. Thermal eradication utilizes no toxic chemicals, and is both fast and efficient. The GreenTech Heat technology is EPA listed and approved.
The GreenTech Heat Solutions technology will maintain a temperature range that is 100% lethal to all life stages of viruses, bacteria, allergens, spiders, bed bugs, cockroaches, and other insects, and 100% safe to the building, its furnishings, HVAC, electronics, and other contents. Sanitizing a typical church building with GreenTech Heat equipment can be completed in about a day.
We created the industry and have continued innovating ever since! Dr Michael Linford, founder of GreenTech Heat Solutions, was the first to commercialize heat in the structural pest control industry in 1989.
Proven results: Thorough heating reduces microbials
Independent academic and field efficacy studies show that bed bugs die at 140˚F in as little as an hour, and most viruses are deactivated at about the same exposure. Heat is so efficient at killing microbes, Ford Motor Company recently began using heat to sanitize the interior of police cars. More and more forward-thinking organizations seek a green alternative. GreenTech Heat equipment and technology will allow your church to self treat with heat and provide a single-treatment solution that is 100% effective against all insects that sanitizes, freshens the air, reduces allergens, may kill molds and reduce bacteria and viruses in the same treatment.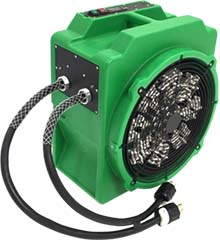 The GreenTech Heat solution
From small chapels all the way up to expansive worship centers, GreenTech Heat Solutions has the equipment, technology, and training to allow you to self-treat with heat.
Our ePro 400, ePro 400XP with PTAC converter for hotels, ePro 600, and ePro 1400 electrical heaters sanitize furnishings, surfaces, electronics, and the air within a structure and achieve lethal temperatures by recirculating air repeatedly through the heater. Treating a structure with a Titan 450 or Titan 800 provides the additional benefit of flushing the treatment area with up to 5,000 cubic feet per minute of heated air.
You can find a more complete discussion on heat and microbes in our white paper.
GreenTech Heat technology is also 100% effective for bed bugs, cockroaches, and all other insects. As recently advocated by Ford Motor Company, heat kills microbes, viruses, and bacteria. GreenTech Heat equipment allows you to self-treat with heat on your schedule and as your needs demand. Our certified training lets you do it right and do it safely the first time. Heat safely kills insects and microbes everywhere they may be found in a single one-day treatment. Call us at 888-699-3944. We have bed bug heaters for sale to get started with heat today.
---
What People Say
I wanted to tell you how very happy we are with your equipment. The 2 Titans perform excellent. We can do a full treatment to our largest cabin even while the kids are on day trek adventures. And when they return no more bed bugs! Also, I want to say it works great for head lice too! That's a big one. We will be telling all our affiliate camps at our next rally how to once and for all take care of this problem. And no big demand on electrical power either.
Big Horn Wilderness
---