The ePro 1400 Electric Bed Bug Heater Produces 52K BTUs
GreenTech Heat reaches lethal temperatures within two hours
---
What People Say
We are moving all of our heating equipment to GreenTech due to the portability, efficiency, and affordability compared with TempAir. The ePro 1400 is an outstanding heater!
---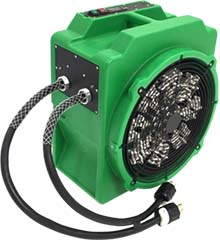 The ePro 1400 bed bug eradication heater produces 52,377 BTUs and weighs less than 50 pounds. This heater can be run from electric stove and electric dryer outlets or powered by a generator. It has two 240V power cords, one for each heating element, which simplifies electrical needs and reduces set up times. The ePro 1400 electric heater will increase ambient temperatures to lethal levels within two hours. This heater heats like propane but has the lightweight portability of electric.
This heater requires two 240V 50 or 30 amp plugs to run at full power.
---
What People Say
The ePro 1400 is the best electric heater we have ever used. This heater reduced treatment time significantly and distributed the heat energy in a very efficient way.
Isotech Pest Control
---
The ePro 1400 electric heater introduces an easy, high-power electrical bed bug solution. Twice the power and half the weight of the competition's 240V heater. The ePro 1400 produces 52,377 BTU. ePro electric heaters recycle room air through the intake port, over the heating coils, and out into the treatment area. Each time air passes through the heater it imparts more energy into the air producing higher temperatures. The 48-pound ePro 1400 heater effectively treats up to 1400 square feet in 8 hours, making it perfect for apartments, hotels, and dorm room, churches, and nursing home treatments! The ePro 1400 has two integrated 240V power cords.
IMPORTANT! For both heating elements plus the fan to work you will need a minimum of 64 amps of 240V electrical power. The approximate time to treat a 1400 square foot space is up to 8 hours using both 240V power circuits. Be sure you have adequate electrical power to operate this heater. This heater utilizes two 32A 240V circuits for a total power draw of 64A.
Perfect for updating or upgrading equipment— 2 of our heaters outperform 4 of competitor's. Our most powerful electric heater. Click here to purchase the ePro 1400.
When properly applied, our professional-grade equipment consistently provides a 100% kill, 100% of the time, every time. Modern bed bug populations are highly resistant to the insecticides used for their control. Heat is known to be a very effective bed bug killer and it can be used in many different ways to treat infestations. To improve your success, online training and certification are included with all equipment packages priced $2,000.00 and up.
---
What People Say
The ePro 1400 is the best electric heater I've used to date. I am buying two of them! 104,000 BTUs so powerful and convenient to set up.
George Iglesias
Pest Innovations
---
Make GreenTech Heat Your Solution
GreenTech Heat designs, manufactures, and sells a complete range of electrical bed bug heaters. Click here for more information on all the electric ePro bed bug heaters.
Viewing on a mobile phone?
Rotate your device to view the entire chart.
GreenTech Heat Electric Bed Bug Heaters


ePro 400XP

ePro 600 hotel

ePro 600

ePro 1400
heat produced
19,000 BTU
26,212 BTU
26,212 BTU
52,377 BTU
8-hour treatment area
400 sqft
600 sqft
600 sqft
1400 sqft
power requirements
46A 110V
PTAC & 15A 110V
66A 110V
64A 240V
includes cords
yes
yes
yes
yes
integrated thermostat
yes
yes
yes
yes
air flow
3000 cfm
3500 cfm
3500 cfm
3500 cfm
dimensions
17.5" x 17.5" x 13.4"
23" x 20" x 13"
23" x 20" x 13"
23" x 20" x 13"
weight
28 lbs
40 lbs
40 lbs
48 lbs
warranty
2 years
2 years
2 years
2 years
heater price
$1,899.00
$2,398.00
$2,249.00
$2,549.00
Click to Purchase Heater
Click to Purchase Heater
Click to Purchase Heater
Click to Purchase Heater
package price
$2,307.00
$2,953.00
$2,657.00
as low as $56/month-60 months
$3,404.00
as low as $72.00/month-60 months
Click to Purchase Package
Click to Purchase Package
Click to Purchase Package
Click to Purchase Package
Unlike chemicals, heat kills eggs and all stages of insect development, with no potential side effects to your customers. Heat is the solution to pest control in many markets, making one-day, single-treatments a reality.
GreenTech Heat offers four discreet, portable electric heat systems: the ePro 400, our ePro 400 hotel single cord+, the ePro 600, and the ePro 1400. Each of these heaters combine the heater and fan into one easy-to-use device.
Portable electric bed bug heaters are operated inside the treatment area and recycle the room air through the intake port, over the heating coils, and out into the treatment area. Each time air passes through the heater it imparts more energy into the air producing higher temperatures. The GreenTech Heat electric heaters have thermal regulator switches and can be set up in a treatment area and left to operate without constant supervision. We have designed these heaters to operate without requiring a generator. Each heater comes standard with the appropriate number of power cords.

All GreenTech Heat heaters come with a 2-year repair or replace warranty. All GreenTech Heat electric heaters and fans are ETL listed.
Because of the convected energies created by the GreenTech Heat ePro electric bed bug heaters, we do not recommend residents re-enter the property until temperatures have cooled to 85°F.
---
What People Say
Wanted to send pics of how well your equipment and training works for us. We can't thank you enough for the way you have treated us. It is refreshing to work with people that get a team concept over just doing business. Thank you.
Grant Guyer
Mirage Properties
---
People enthusiastically recommend GreenTech Heat equipment and training
Local, regional, and nationally-recognized pest control companies concur that GreenTech Heat equipment and training make the difference when treating for bed bugs. Visit our testimonials page for more comments about our training and technology.
Price of Equipment vs Cost of Treatment
GreenTech Heat
Pesticides
Treatment duration
1 Day
Weeks to Months
Kill all bedbugs in a single treatment?
Yes
No
Repeat visits?
Not needed
Required
Toxic chemcials
No
Yes
100% safe to humans and pets?
Yes
No
Antibacterial
Yes
No
Reduces allergens?
Yes
No
Denatures dust mites?
Yes
No
Kills insect eggs?
Yes
No
GreenTech Heat Solution's state-of-the-art technology allows you to achieve a proven thermal kill for bed bugs. Our state-tested technology creates heat convection currents which transfer energy throughout the room. Heated air molecules transfer their energy into every surface of the room, allowing all the contents of the room to reach a minimum of 140°F. Developed and perfected by Michael R. Linford PhD, our equipment is designed to be a complete bed bug heat treatment system without sacrificing safety, quality, or capability. We understand that equipment alone will not achieve a 100% kill of your infestation. That's why we include our Flash video training with every package and many of our packages include our Master Heat Technician Certification training program.
Most people consider only the monetary component of a treatment's cost. Inconvenience, toxicity, and length of treatment should all be considered when calculating a total cost. While a pesticidal treatment may appear less expensive, the bed bugs will remain with you and your passengers for several weeks to a month or more. Don't forget that bed bugs can survive more than 500 days between meals and may be waiting patiently for you! The table above will help you identify some of the hidden considerations of pesticidal treatments as compared with treating with GreenTech Heat equipment.
For more information on how to protect your family, your residents, your property, or your good reputation, call us at 855-GTH-BUGS (855-484-2847) ext 2 or visit our online store to order today.
Getting started with heat is easy!