Titan RCS Recirculation System:
It's like getting free heat for a bed bug heat treatment
Reclaim treatment energy. Achieve lethal temperatures faster.
Reduce propane usage. Increase job profits.
The Titan RCS System captures your heated treatment air and ducts it back into the Titan direct fired heater. This exclusive system reduces propane usage, shortens treatment times, and achieves lethal temperatures faster... especially for bed bug heat treatments in cold weather!
The Titan RCS System works with both the Titan 800 and Titan 450. Priced at only $299.00 plus shipping, the Titan RCS will pay for itself in just a couple of jobs this winter... and continue providing benefits throughout the year.
In discussing our development of the RCS, Dr. Mike says, "There is a lot of engineering and thought behind this simple collection of flanges and ducting. Avoiding burning out the Titan's motor and keeping carbon monoxide levels under OSHA limits was central to our development. Increased efficiency without safety is not an improvement."
---
What People Say

Using the Titan RCS for the first time cut my heat job down by almost 3 hours. We monitor CO levels with our Portal carbon monoxide alarm, and so far, it hasn't gone off. I bought one of these for every heater we have.
Calvin Thigpen
It's Bugs or Us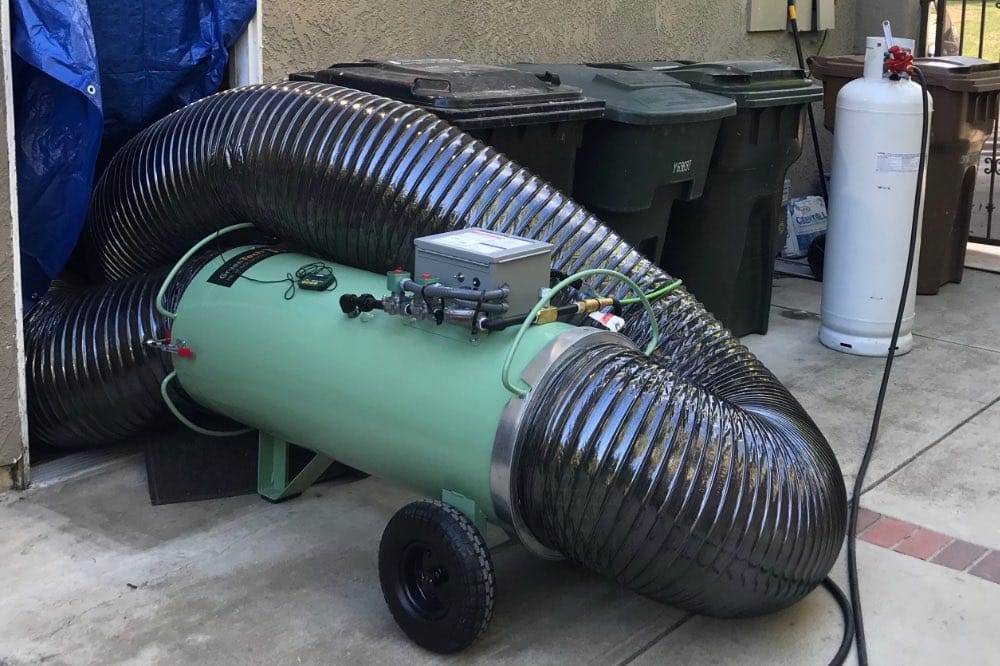 This picture demonstrates the heater end of the Titan RCS Heat Recirculation System. Energized air is fed back into the Titan heater, reducing propane consumption.
---
What People Say
The Titan RCS shortens treatment times and reduces job costs. You just got to get it! I've ordered two!
Gary Johnston
Sleep Tight Bed Bug Control
Reduce treatment times by reclaiming energy.
The Titan 800 is the most powerful portable direct fired bed bug heater on the market. It typically increases the temperature of the air drawn through the heater by 180°F. The treatment area can reach lethal temperatures within two hours when conducting bed bug heat treatments when the outside temperature is 60°F and above.
Treatments take longer when it's cold outside. Not only is the outside air cooler, the building and all its furnishings can be much colder, too. Heating the cold air to heat the cold structure and the contents will take more time and fuel. Both are costly commodities.
This is where the GreenTech Heat RCS comes into play. Instead of venting the treatment area to the outside, duct the warmer treatment air from within the structure back into the heater. The RCS safely recycles heated air through a duct and back into the Titan. The RCS incorporates an AM4000 fan within the treatment area (not included with the RCS) to prevent the Titan from overheating. We have constructed the RCS to allow the system to continue drawing fresh air into the heater. The RCS allows a Titan to increase treatment temperatures to lethal levels within two hours while keeping carbon monoxide levels under OSHA limits.
The RCS produces a substantial increases in treatment air temperature in cold situations. Every pass through the heater increase the efficiency of the treatment, reducing the time and propane required for a treatment.
---
What People Say
I just wanted to let you know that your GreenTech Propane fired unit is working great for us here in Wilmington DE, and our Philadelphia PA complexes. We followed Michael R. Linford PhD's field manual to the tee and we are 25 for 25 on bed bug free apartments. Thank you so much for such a great product which has helped us take control of our bed bug problem. Keep up the great work. Happy in the East Coast.
Eric Fredricks
Cranston Hall Apartments
---
The RCS package includes
Custom flange for the Titan heater intake
Custom flange with clamps to attach ducting to the outbound side of an AM4000 fan
25' of mylar ducting
Benefits of the RCS
Increase job efficiency
Reach treatment temperatures faster
Reduce treatment times
Reduce propane costs
Reduce labor expenses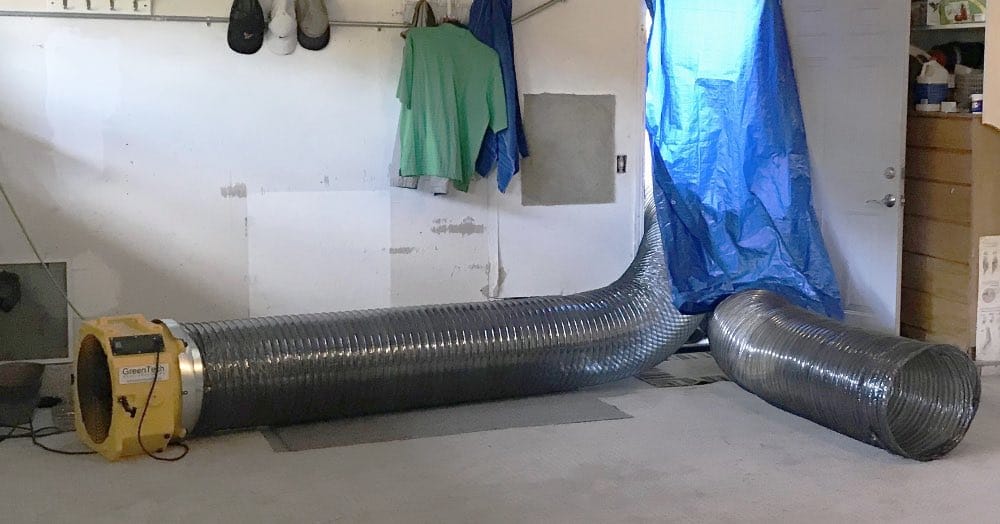 The Titan RCS Heat Recirculation System utilizes an AM4000 (not included) to pull heated air from the treatment zone and direct it back into the Titan 800 heater.
The RCS does not include the AM4000 fan necessary for safe heater operation.
---
What People Say
It is very refreshing to be able to have a discussion on a topic with the person who literally wrote the book on said topic. Thanks for everything you add to our industry; your work and knowledge is appreciated by even those who aren't aware of it.
Tyson J. Batdorf
Operations Manager, Noneman Real Estate Company
---
Make GreenTech Heat Your Solution
GreenTech Heat designs, manufactures, and sells a complete range of direct-fired bed bug heaters. Click here for more information on all the direct fired Titan bed bug heaters.
Unlike chemicals, heat kills eggs and all stages of insect development, with no potential side effects to your customers. Heat is the solution to pest control in many markets, making one-day, single-treatments a reality.
GreenTech Heat offers two discreet, portable direct fired heat systems: the Titan 450 and the Titan 800. Each of these heaters produce more power and BTUs than the competition.
Portable electric bed bug heaters are operated inside the treatment area and recycle the room air through the intake port, over the heating coils, and out into the treatment area. Each time air passes through the heater it imparts more energy into the air producing higher temperatures. The GreenTech Heat electric heaters have thermal regulator switches and can be set up in a treatment area and left to operate without constant supervision. We have designed these heaters to operate without requiring a generator. Each heater comes standard with the appropriate number of power cords.
All GreenTech Heat heaters come with a 2-year repair or replace warranty.
Because of the convected energies created by the GreenTech Heat ePro electric bed bug heaters, we do not recommend residents re-enter the property until temperatures have cooled to 85°F.
---
What People Say
Wanted to send pics of how well your equipment and training works for us. We can't thank you enough for the way you have treated us. It is refreshing to work with people that get a team concept over just doing business. Thank you.
Grant Guyer
Mirage Properties
---
People enthusiastically recommend GreenTech Heat equipment and training
Local, regional, and nationally-recognized pest control companies concur that GreenTech Heat equipment and training make the difference when treating for bed bugs. Visit our testimonials page for more comments about our training and technology.
Price of Equipment vs Cost of Treatment
GreenTech Heat
Pesticides
Treatment duration
1 Day
Weeks to Months
Kill all bedbugs in a single treatment?
Yes
No
Repeat visits?
Not needed
Required
Toxic chemcials
No
Yes
100% safe to humans and pets?
Yes
No
Antibacterial
Yes
No
Reduces allergens?
Yes
No
Denatures dust mites?
Yes
No
Kills insect eggs?
Yes
No
GreenTech Heat Solution's state-of-the-art technology allows you to achieve a proven thermal kill for bed bugs. Our state-tested technology creates heat convection currents which transfer energy throughout the room. Heated air molecules transfer their energy into every surface of the room, allowing all the contents of the room to reach a minimum of 140°F. Developed and perfected by Michael R. Linford PhD, our equipment is designed to be a complete bed bug heat treatment system without sacrificing safety, quality, or capability. We understand that equipment alone will not achieve a 100% kill of your infestation. That's why we include our Flash video training with every package and many of our packages include our Master Heat Technician Certification training program.
Most people consider only the monetary component of a treatment's cost. Inconvenience, toxicity, and length of treatment should all be considered when calculating a total cost. While a pesticidal treatment may appear less expensive, the bed bugs will remain with you and your passengers for several weeks to a month or more. Don't forget that bed bugs can survive more than 500 days between meals! The table above will help you identify some of the hidden considerations of pesticidal treatments as compared with treating with GreenTech Heat equipment.
For more information on how to protect your family, your residents, your property, or your good reputation, call us at 855-GTH-BUGS (855-484-2847) ext 2 or visit our online store to order today.
Getting started with heat is easy!