The GreenTech Heat Titan 800 produces 990,000 BTU! But what's a BTU?
by David Rios, Assistant Director of Technical Services
August 25, 2020
The Titan 800 is the most powerful portable, direct-fired bed bug eradication heater available anywhere! It produces more than 990,000 BTUs. The ePro 1400 makes 52,377 BTU. Other than being a convenient unit to compare different heaters, what's a BTU?!
This might get a bit scientific... but hang on! I promise it will be worth it! A BTU is a British Thermal Unit, a unit of heat energy. It is defined as the amount of energy required to raise the temperature of one pound of water by one degree Fahrenheit. Calculating the BTU output of a heater is straightforward and not open to interpretation by the manufacturer.
There are two major methods of calculating the BTU output of a heater. The first is for electric heaters like the ePro 1400. The second is for fuel-powered heaters like the Titan 450 and Titan 800. We're not afraid of direct comparisons with our competition, so let's jump in and calculate some BTUs!
Calculating the BTU of electric heaters
Almost every electrical device has a label showing how many watts or amps and volts it utilizes. Keep in mind we are interested in the energy used by the heating coils, not supplied by the wall power. Calculate the BTU from the watts or the amperage and voltage with one of these equations:

BTU = volts x amps x 3.412141633
BTU = watts x 3.412141633



For example, my daughter's hair dryer is rated at 1,875 watts. In our world, it makes 6,398 BTU. All our ePro electric heaters generate 3,500 cubic feet per minute of airflow. I have no idea how much airflow a hair dryer generates, so directly comparisons with our ePro electric bed bug heaters is not possible.
The ePro 400 produces 19,659 BTU.
The ePro 600 makes 26,212 BTU.
Our ePro 1400 generates 52,377 BTU.
For an insect treatment, that's a lot of hair dryers.
Calculating the BTU of direct-fired heaters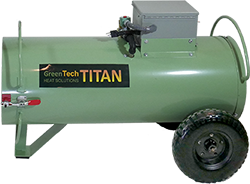 Calculating BTU output for a fuel-powered heater utilizes a formula incorporating airflow and the maximum temperature change (dT) achieved when air passes through the heater.
BTU = airflow x 1.08 x dT
We had an outside entity compile these quantifiable figures and calculate the BTUs for the four main direct-fired heaters available.
EcoForce Black Widow: 3650 cfm, 143.8˚F net temperature rise.
PestHeat TPE 500: 3818 cfm, 142.6˚F net temperature rise.
GreenTech Heat Titan 450: 3808 cfm, 124.8˚F net temperature rise.
GreenTech Heat Titan 800: 5076 cfm, 180.6˚F net temperature rise.
The EcoForce Black Widow and PestHeat TPE 500 produce 566,860 BTU and 588,003 BTU respectively. Our Titan 800 generates 990,064 BTU—almost twice the output of any other heater on the market. The Titan 450 makes 513,257 BTU. Keep in mind this heater weighs less and is smaller and more maneuverable than the competition... and it also costs less!
GreenTech Heat technology is also 100% effective for bed bugs, cockroaches, termites, and all other insects. GreenTech Heat equipment allows you to self-treat with heat on your schedule and as your needs demand. Our certified training lets you do it right and do it safely the first time. Heat safely kills insects and bacteria, viruses, and mold everywhere they may be found in a single one-day treatment. Call us at 888-699-3944. We have bed bug heaters for sale to get started with heat today.
---
What People Say
We love the equipment we got from you and had no call backs ever since we started using it.
Stanley Melnick
Service Tech USA
---