HUD Guidance on Prevention of Bed Bug Infestations
by Tommy Underhill
September 24, 2019
Bed bugs continue to be problematic throughout all segments of society. The issue is a complex and recurring problem that HUD (U.S. Department of Housing and Urban Development) continues to grapple with and address. GreenTech Heat has offered solutions to the bed bug problem since 2003. Dr. Linford has been active in the insecticidal use of heat since 1989.
I have reproduced the following from the U.S. Department of Housing and Urban Development's Notice H 2012-5, pertaining to Guidelines on Addressing Infestations in HUD-insured and Assisted Multifamily Housing. All emphasis and links within the following quoted material are mine.
---
Of particular concern for Multifamily O/As [Owners and Agents], as well as project residents, is the resurgence of bed bugs, which can cause discomfort and anxiety for residents and which can spread quickly. The ideal approach to bed bug infestations is to prevent them from occurring in the first place. Federal agencies, such as EPA and HUD, are working in tandem to develop and share recommendations to prevent infestations.
HUD encourages Multifamily O/As to develop an Integrated Pest Management Plan (IPM) to focus on preventing infestations. Such plans describe the ongoing efforts the property management will take to prevent and respond to pests. For more detail on IPMs generally, please see the online guide at http://www.stoppests.org. The information below pertains specifically to bed bug infestations.
According to the EPA, principles of IPM for bed bugs include:
Raising awareness through education on prevention of bed bugs;
Inspecting infested areas, plus surrounding living spaces;
Reducing the number of secondhand items brought into units and looking for bed bugs or signs of infestation on secondhand items before bringing the items home;
Correctly identifying the pest;
Keeping records – including dates when and locations where pests are found;
Physically removing bed bugs through cleaning;
Following up on inspections and possible treatments.
In addition to or as part of an IPM program, Multifamily O/As are strongly encouraged to take the following steps to prevent bed bugs:
Provide training for staff to identify bed bugs, and to perform ongoing prevention actions as outlined in the IPM. When a community is at high risk for bed bugs (for example, if the community has experienced prior infestations), periodic building inspections are recommended.
Actively engage residents in efforts to prevent bed bugs. Education and involvement of project residents is a critical component of IPM for bed bugs. bed bugs may often go undetected and unreported, because they are active at night, and tenants may not be aware of their presence. O/As may wish to hold workshops for tenants to teach them to identify bed bugs, to create unfriendly environments for pests, and to report suspicions of bed bugs as soon as possible.
Provide orientation for new tenants and staff, and post signs and handouts.
In addition, tenants should immediately report the suspicion of infestations in housing units or other areas of the property. Early reporting allows the pests to be identified and treated before the infestation spreads. Tenants are the first line of defense against infestations and should cooperate to create living environments that deter pests. This includes reducing unreasonable amounts of clutter that create hiding places for pests and deter treatment.
---
As you contemplate the complexities of bed bug treatments, consider a multi-layered approach where your treatment includes both heat and pesticides or desiccant dusts. Heat synergizes with chemicals to accelerate and enhance the effectiveness of pesticides and desiccant dusts. Create and establish a perimeter barrier with a desiccant dust to minimize the ability of bed bugs to migrate to other units. GreenTech Prevent can be applied after a treatment to provide a residual barrier in the situation where a tenant or guest reintroduces bed bugs into the treated area.
Bedbug harborages make pesticides less effective
This picture shows a bedbug found inside a laptop computer. bed bugs can be found behind headboards and in books and electronics in and on bed-side cabinets. Even by atomizing pesticides, it is unlikely to penetrate the pages of books in a drawer or tightly fitted on a bookshelf. Desiccant dust is very slow acting and requires a period of two to three months. Traditional treatments allow bed bugs to exist and feed within a given habitation for the entire time. While bed bugs are becoming resistant to some chemical pesticides containing pyrethroids, the insects will never become resistant to heat.
The application of GreenTech Heat is lethal without the application of pesticides. GreenTech Heat can achieve lethal temperatures inside mattresses, pillows, wall voids, books, and all contents within a given habitation. Rooms on several floors can be treated simultaneously within four to eight hours or 12 to 24 hours depending on the type of equipment deployed. The need for tenants to move out is minimized, or even eliminated, by using GreenTech Heat. The GreenTech Heat direct fired heaters are clean and allergen-free and will not arouse the same concern from tenants as can pesticides or fumigants.
Social stigmas surround bed bugs
Bed bug infestations can be emotionally disturbing and will often induce anxiety. Unfortunately, HUD quietly presents the concept that bed bugs are a pest common in subsidized housing and that these insect pests thrive in clutter. Bed bugs don't care about the cleanliness of your home, they only want to feed on you and your family. Rich or poor, they only want to feast on your blood. This document also does not address the social stigma surrounding bed bugs: Tenants often avoid self reporting bed bug infestations out of fear of retaliation from landlords, being shunned by friends and other residents, and having their families exposed to multiple rounds of pesticides.
When seeking to eliminate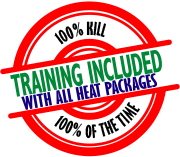 bed bugs and their eggs, heat is the only one-day solution available to housing authorities, owners, and agents. When properly applied, GreenTech Heat Solutions equipment consistently provides a 100% kill, 100% of the time, every time. Modern bed bug populations are highly resistant to the insecticides used for their control. Heat is known to be a very effective bed bug killer and it can be used in many different ways to treat infestations. To improve your success, training is included with all equipment packages.
Of course, the cheapest solution for all is prevention and a responsive plan to quickly stop the spread of bed bugs if one is found. If you are a housing authority or other owner or agent, find out how owning your own GreenTech Heat treatment equipment might be the most cost-effective option for you. Call us at 888-699-3944 for answers to any specific questions you might have.
---