Heat treatment is effective against beetles in grain silos
by Tommy Underhill
March 22, 2018
The last major section of Dr. Mike's Bed Bug Heat Treatment Field Guide is the Compendium of Thermal Death Points of Living Organisms. Every living organism has a thermal death point. The same process for treating bed bugs will also kill, and in some cases, completely eradicate other organisms. Generally speaking, treatments with air temperatures of 66°C/150°F for two hours will be lethal for most organisms. In laboratory testing with Dr. Walter Ebling, professor of entomology at UCLA, nearly all metamorphic stages of insects died at 49°C/120°F in 30 minutes or less, except for the egg stage. The eggs required an hour at this temperature. Remember, field conditions are not controlled as are conditions in the lab. The times and temperatures listed in the Compendium are not generic air temperatures. These conditions must be met where the organism is found and may require significantly more time to reach the stated thermal levels.
In their 2011 study entitled Efficacy of Heat Treatment for Disinfestation of Concrete Grain Silos, Opit, Arthur, Bonjour, Jones, and Phillips test the ability for heat to kill insect pests in grain silos where resistance to residual insecticides and the fumigant phosphine has become more prominent.
Two major pests of stored grain are Rhyzopertha dominica [American wheat weevil] (F.) (Coleoptera: Bostrichidae) and Tribolium castaneum [red flour beetle] (Herbst) (Coleoptera: Tenebrionidae). The former is a major internal-infesting pest of whole cereal, whereas the latter is an important external-infesting pest of cereals and cereal products and is a major pest of mills (Rees 2004). These pests are commonly controlled using insecticides, but development of insecticide resistance (Zettler and Cuperus 1990) and government regulation of insecticides, consumer demand for insecticide residue-free products, and broader commercial needs call for the development of chemical-free management approaches for these pests (Phillips and Throne 2010).
The results of their study are commensurate with what we have been teaching and training for years, and adds two more species to the Compendium:

We found that when temperature was 50°C for 6 [hours], parental mortality of R. dominica and T. castaneum, and both psocid species was 98-100%.
Every living organism has a thermal death point. Our Titan 800 propane heaters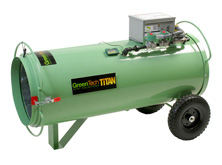 are safe, economical, and effective when treating insect pests in grain silos, with no potential residual contamination or resistance. When applied as directed and lethal temperatures at the hardest-to-heat places are achieved and maintained for the requisite time, heat is one of the few broad-spectrum pest-control measures compatible with organic foods.
---
We do not provide heat treatment services.
GreenTech Heat designs, manufactures, and sells portable electric and propane heaters, fans, and treatment accessories specifically designed for the efficient killing of all insect pests, especially bed bugs and their eggs. In some cases, owning our equipment has a lower total cost and greater timeliness than utilizing an outside service.
Click here for a list of service providers.
---