Commercial propane heaters kill bed bugs, and other insects, and their eggs
Eliminate microbes, allergens, mold, bacteria, and viruses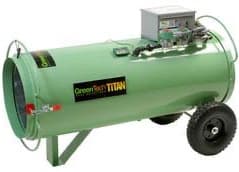 Titan portable direct-fired propane heaters are the most powerful heaters and generate up to 990,000 BTU. In fact, recent independent analysis reports that the GreenTech Heat Solutions Titan 800 is the most powerful portable, propane bedbug heater available. GreenTech Heat offers two commercial-quality propane heat systems: the Titan 450 and Titan 800. Both are made in the USA.
Professional propane heaters achieve lethal thermal temperature faster than electric bed bug heaters and will take less time to perform a treatment. bed bug heat treatments with propane heaters often reduce the ability for bed bugs and other insects to migrate out of the heating zone during the treatment. Direct fired gas heaters are effective for treatment of all insects and are efficacious for all life cycle stages including eggs. The Titan heaters also raise interior and exterior wall temperatures to lethal levels for wood-destroying pests like termites.
What People Say
We got a propane heater from your competitor and if cuts on and off. We've sent it back to them for a bad burner ring, which cost us over $2 grand of damage to a home. It's been a constant thorn in our side. It just sits in the shop now. We don't trust it. We learned our lesson: nothing but GreenTech going forward. We love our Titans and ePros. U guys are awesome!
Darren
Rocky Mountain Bed Bug
---
We designed the commercial grade Titan propane bed bug heaters for safety and operator convenience. Each Titan is easy to maneuver and the handles make loading and unloading easy. The longer barrel of the Titan 800 increases air pressure and makes treatments safer. The solid tires make transportation around a job site nearly effortless.
Both Titan heaters are portable and can be transported and stored upright to save space. All GreenTech Heat heaters come with a 2-year repair or replace warranty.
Because of the convected energies created by the GreenTech Heat Titan heaters, we do not recommend residents re-enter the property until temperatures have cooled to 85°F.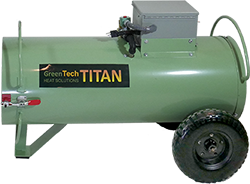 The industry-exclusive Titan 450 uses exclusive heat ducting technology to produce 550,000+ BTU, and can treat more than 2000 square feet in an 8-hour day. This propane bed bug heater weighs around 100 pounds and is easily transported up stairs and fits in a small truck or SUV: it's only 43 inches long. The Titan 450 is easily set up by one person and may be used in a hallway with 5 or 10 gallon propane tanks. The integrated fan on the Titan 450 moves up to 4,000 cfm.
The light-weight, easy-to-handle Titan 450 is designed specifically for pest control heat treatments. The small footprint allows it to operate on balconies and patios. The heater is easily maneuverable up stairways. Perfect for apartments, medical buildings, and churches! Click here for more information on the Titan 450 portable propane bed bug heater.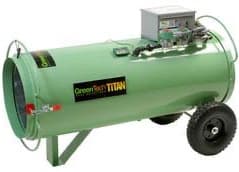 No job is too large or too small for the Titan 800! The Titan 800 produces more than 990,000+ BTU, and treats more than 3000 square feet. This propane bed bug heater is 140 pounds. Perfect for single-family homes and multi-unit housing, the Titan 800 is easily set up by one person and may be used with 25 gallon propane tanks. The integrated 18" fan on the Titan 800 moves more than 5,000 cfm—more than any other propane bed bug heater on the market.
The Titan 800 is typically operated outside the structure and ducts the heated air into the building. The Titan 800 utilizes 25 gallon propane tanks. A 25 gal/100 lb tank will typically supply enough propane for the entire treatment with a Titan 800.
All GreenTech Heat propane heaters come with a 2-year repair or replace warranty. Propane bed bug heater packages do not include the propane tank. Each of our propane bed bug heater packages comes standard with the Bed Bug Heat Treatment Field Guide and our exclusive Master Heat Technician Certification, and include fans, all propane hoses, and regulators. Click here for more information on the Titan 800 portable propane bed bug heater.
Propane heaters are typically operated outside the treatment area and the energy from the propane heating unit is ducted into the room from outside the building. Because of the amount of energy and heat produced by these heaters, a technician must always be present to monitor the heater and the treatment area. Propane systems require a propane tank and hoses.