One bed bug heat machine. Many pests.
Commercial grade direct-fired heaters kill bed bugs, other insects, and their eggs
These professional-grade heaters begin killing in less than 15 minutes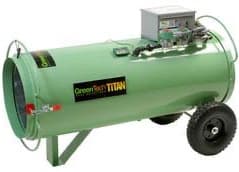 Controlling pests is complex. Chemicals, pesticides, and techniques that work on cockroaches are not effective against bed bugs and termites can be a whole different ball game! GreenTech Heat direct-fired heaters are effective with 100% kills across a wide spectrum of insects, viruses, bacteria, mold, and fungi. GreenTech Heat Titan heaters can do in a day what other treatments can require weeks to achieve.
The American-made Titan portable, commercial quality, direct-fired propane heaters are the most powerful heaters and generate up to 990,000 BTU. In fact, recent independent analysis reports that the GreenTech Heat Solutions Titan 800 is the most powerful portable, direct fired bedbug heater available. GreenTech Heat offers two direct fired heat systems: the Titan 450 and Titan 800. Both are made in the USA and both come with our exclusive 2-year repair or replace warranty. Our robotic welding assures the highest structural quality in the industry!
Titan gets the job done in just 1 day.
Viewing on a mobile phone?
Rotate your device to view the entire chart.
GreenTech Heat Direct-Fired Propane Heaters


Titan 450

Titan 800
output
550,000+ BTU
990,000+ BTU
8-hour treatment area
more than 2,000 sqft
more than 4,000 sqft
power requirements
7A 120V
7A 120V
air flow
up to 4,000 cfm
more than 5,000 cfm
integrated REGO valve
yes
yes
propane tank
5 or 10 gal or larger
25 gal and larger
dimensions
43"L x 23"W x 29"H
50"L x 27"W x 30"H
weight
100 lbs
140 lbs
fuel use
~1.4 gal/hr
2-4 gal/hr
net temp rise
125°F
180°F
warranty
2 years
2 years
heater price
$7,999.00
as low as $167.00/month-60 months
$8,899.00
as low as $189.00/month-48 months
Click to Purchase Heater
Click to Purchase Heater
package price
$9,792.00
as low as $205.00/month-60 months
$10,999.00
as low as $231.00/month-60 months
Click to Purchase Package
Click to Purchase Package
What People Say
Your technical manual was worth the price of our entire Titan package. It has helped us with so many valuable techniques and procedures which has in turn helped our clients. We need more manuals because we've worn out the one that came with our package.
Doug Foster
Burt's Pest Control
---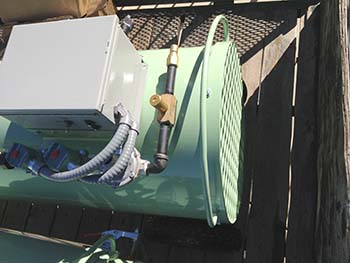 Commercial direct fired propane heaters achieve lethal thermal temperature faster than electric bed bug heaters and will take less time to perform a professional quality treatment across a wide range of pests.
Bed bugs
Cockroaches
Termites and WDOs
Stink bugs
Spiders
Bacteria
Hantavirus and rodent droppings
Allergens
Dust mites
Bed bug heat treatments with portable direct fired bed bug heaters often reduce the ability for bed bugs and other insects to migrate out of the heating zone during the treatment. Direct fired gas heaters are effective for treatment of all insects and are efficacious for all life cycle stages including eggs. The Titan heaters also raise interior and exterior wall temperatures to lethal levels for wood-destroying pests like termites and powder post beetles.
When properly applied, our professional-grade equipment consistently provides a 100% kill, 100% of the time, every time. Modern bed bug populations are highly resistant to the insecticides used for their control. Heat is known to be a very effective bed bug killer and it can be used in many different ways to treat infestations. To improve your success, online training and certification are included with all equipment packages priced $2,000.00 and up.
Commercial-quality direct fired heaters are typically operated outside the treatment area and the energy from the direct fired heating unit is ducted into the room from outside the building. Because of the amount of energy and heat produced by these heaters, a technician must always be present to monitor the heater and the treatment area. Professional direct fired systems require a propane tank and hoses. We had our portable direct fired bed bug heaters tested for emissions safety in 2000. The Titan 800 surpasses all OSHA requirements for potential employee exposure to hazardous gasses, including carbon monoxide, during heat treatments.
We designed the Titan direct fired bed bug heaters to meet the needs of professional and commercial applications for safety and operator convenience. Each Titan is easy to maneuver and the handles make loading and unloading easy. The longer barrel of the Titan 800 increases air pressure and makes treatments safer. The solid tires make transportation around a job site nearly effortless. Both Titan heaters are portable and can be transported and stored upright to save space.
---
What People Say
Wanted to send pics of how well your equipment and training works for us. We can't thank you enough for the way you have treated us. It is refreshing to work with people that get a team concept over just doing business. Thank you.
Grant Guyer
Mirage Properties
---
People enthusiastically recommend GreenTech Heat equipment and training
Local, regional, and nationally-recognized pest control companies concur that GreenTech Heat equipment and training make the difference when treating for bed bugs. Visit our testimonials page for more comments about our training and technology.
Because of the convected energies created by the GreenTech Heat Titan heaters, we do not recommend residents re-enter the property until temperatures have cooled to 85°F.